The bilge cleaning is a job that is not very pleasant, the first tip for you to make it easy is to contact us to do the job:) If you have the time and the desire to do it, follow our advices below.
Bilge cleaning
When you take full advantage of your boat in the summer, on a cruise along the French Riviera, it's easy to forget that your boat is a machine that requires constant maintenance and attention from you and we do not think at all to hold cleaning.
In reality, your boat must be constantly maintained if you want to keep it as long as possible.
Bilge cleaning is not necessarily what we think of first when it comes to boat cleaning.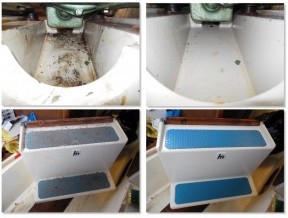 The bilge is the dirtiest place and the one which smells the most of the boat: Nice program!
Bilge Cleaning: If you do not know where your holds are, follow your nose!
Look for the deepest, darkest corner of your boat where all the residue and water end up and you'll end up in the bilge.
Here are some reasons why you should do wedge cleaning now:
Get rid of bad odors in the boat.
Prevent oxidation, corrosion of metal parts that are present in the hold.
Prevent the appearance of microorganism.
No boat is really clean until the bilge cleaning is done and it is still a smelly mess. So you should make sure that the bilge is cleaned like the other parts of the boat.
Bilge Cleaning: To clean the bilge full of oil, you will have to buy a special cleaner.
There are many on the market but take one that is ecological. You will also need some elbow grease as you will need to dislodge the kind of mud that clings to the bottoms. We use this one: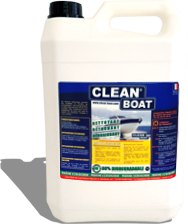 In case your boat has taken a little more water than usual, consider yourself happy because you will have less work to do you bilge cleaning. You just have to pour your concentrated cleaner into the water that has accumulated in the bilge, then let the pitching and rolling do the job next time you are at sea.
The movements of the boat and the action of the product will take care of the bilges for you. Then turn the bilge pump and admire your new bilge.
Steam cleaning is also a greener option
Rather than opting for "chemical" solutions you can use a high-pressure steam cleaner to remove all residues in the bilge in an instant.
You will not need water for this so it will be necessary to think of emptying the bilge of its water before starting your steam cleaner.
Regardless of the method used, pay close attention to electrical wires and other components that may be going through your bilge.