Protect your boat properly with a tarp or cover for the winter
Follow the tips below to protect your boat and make sure your boat cover, if not custom made by your upholsterer fits well. Buy a little more expensive but take a pretty thick tarpaulin anyway. Whether your boat is on trailer or in port these small hoses are applicable.
1 / Think of angles or anything that is sharp
Sharp edges, angles and other protrusions will quickly tear your tarpaulin in a very short time. To prevent this problem, cover the dangerous parts with old cloths or microfibers that you will have attached with power tape or other such tape.
The most common problems to protect his boat in winter come from the angles of windshields of motorboats, flagpoles, antenna fixings.
2/ Do not throw away your plastic cans
You could very well secure the tarpaulin by passing ropes under the hull but admit that it is not very practical to use the boat in winter if you wish.
There is an alternative solution and gives quick access to the boat, which consists of filling 5l plastic bottles with sand.
These bottles will then be connected to the eyelets of the tarp by a small rope. The bottles will then be positioned on the sides of the boat (just above the water if the boat is in port …).
When you want to access the boat, you only have to lift a bottle or two to relieve the tension and slip inside the boat.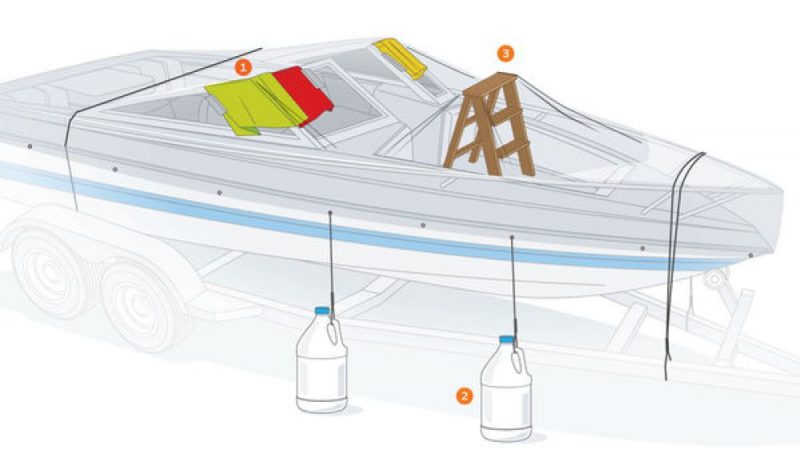 3/ Avoid the build up of water pockets on your tarp
A tarpaulin should be pulled up or large pockets of rainwater may form, which can lead to a tear of it.
You can use a broom wash from your boat to lift the tarp up but watch out for tearing (protect with a rag).
Another solution is to use a step or ladder (depending on the size of the boat) to raise the lower parts of the cover. Be careful that the angles are not sharp otherwise protect the tarps at these places.
Some last bonus tips:
If you have an outboard motor, put an old cotton t-shirt over the bonnet to prevent ragging of the tarp and maintain its glossy appearance.
A stationary radio set on long wave station and left on board would be effective so that the boat does not become a marker of critters. (advice from an old sinner, (I have not tried, I am a little skeptical about it but why not?)
Important: Make sure that there is sufficient ventilation under the tarp otherwise your beautiful upholstery will be covered with mold.
If you do not intend to use your winter boat at all, I advise you to contact your professional for a boat gardiennage and surveillance package or for shrink wrap, these two solutions are the best to really protect your boat during Winter.
Another solution we offer for your boat on the French Riviera, it is thermo-tarp, shrink wrap or cocoon. Whether on a boat park or afloat, your boat is totally protected from bad weather and birds.