6 quick and easy tips for winterizing sails
The end of the season has arrived, you have sailed a lot and it is time to prepare the winterizing of your boat. Among these procedures, it is necessary to winterize its sails, its dear sails (in our heart but not so much for the purse).
Do not use your boat for long periods or at least have no one to open and dry your sails from time to time? In this case it is absolutely necessary to follow these tips:
Remove and clean your sails or have them done by a boat maintenance professional.
Inspect the edges of your sails for signs of cracks or mold
The little wind indicators that look tired must be replaced
Check all eyelets for signs of corrosion and also check the sail for any holes or other damaged parts.
With help, spread the sail on a pontoon or any other flat terrain. Make sure that each "layer" of sail is as wide as possible, less layer produces less creases in the sail.
Then roll the sail starting from the listening edge. With the sail in its bag store the bag vertically. This is to avoid creating significant creases when the sail is resting during the winter.
Ensuring that your sails are properly stored during the winter will prevent you from replacing your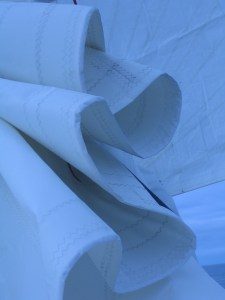 sails at the beginning of the next season.